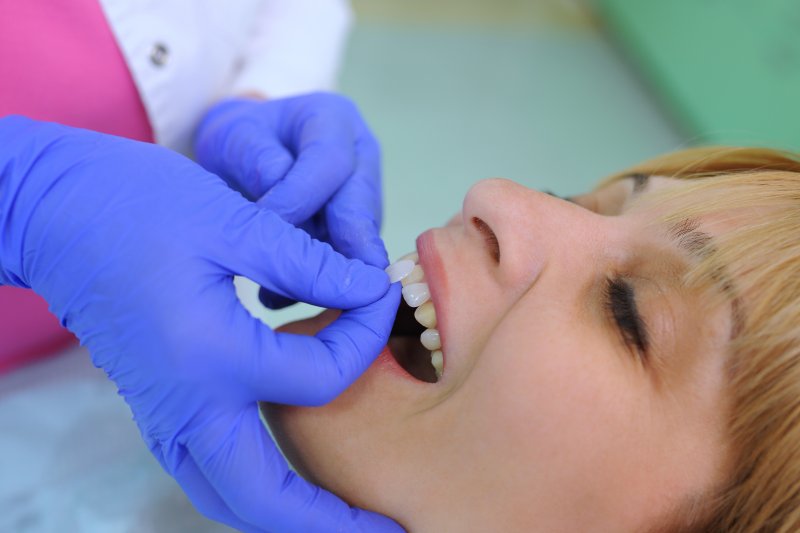 Have you ever wished that you could replace your teeth, with all their aesthetic imperfections, with the shining white smile of your dreams? If you have, it's hard to think of a better way to do that than with veneers!
Veneers can completely transform your smile for the better, but there are a few things worth knowing about them before you begin the treatment. Here's a guide with some important information about this cosmetic dental procedure.
Veneers Require a Healthy Smile
It's worth mentioning right from the get-go that veneers are not a substitute for a beautiful smile; on the contrary, it's best to be treated for any oral health issues you have before you get any kind of cosmetic treatment.
If you have cavities or gum disease, that could potentially compromise the security of your veneers and make it considerably more likely for them to fall off.
Veneers are Semi-Permanent
What does it mean to be "semi-permanent?" Well, it means that your veneers aren't necessarily going to last forever, but that you'll need to replace them if they ever break.
To adhere your veneers to your teeth, your dentist will have to remove a microscopic sliver of your enamel. This would ordinarily mean that your teeth would be sensitive, except that your veneers will be able to protect your teeth.
However, if your veneers ever break or fall off, that means that you'll have to replace them if you want to protect the interior of your tooth. That's what makes them "semi-permanent."
You'll Be Able to Test them Out
Veneers are usually made in a lab, not in your dentist's office. As a result, you'll need to design them at one appointment with your dentist, wait a few weeks for them to be made, and then come in for another appointment to have them actually placed on your teeth.
In the meantime, your dentist will outfit you with a set of acrylic temporary veneers, which are made according to the design you put together with your dentist. This protects your teeth while your veneers are being made. It also serves as an opportunity to see how they're likely to look and to send any last-minute adjustments to the dental lab.
About Our Practice
When you visit us at Barker, Rohner & Hunt DMD, you'll be able to see that we care deeply about providing our patients with the incredible dental care that they deserve. Every day we work to make our practice better, staying on top of the latest techniques in oral medicine, and making our office a more comfortable environment to get care in.
If you have a question about veneers, we can be reached at our website or by phone at (919) 847-7100.