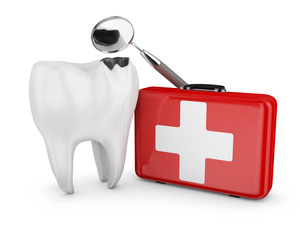 A dental emergency can happen at any time, whether you're relaxing at home, working at the office, or running errands around town. It goes without saying that in these situations, it's best to seek emergency dental care as soon as you can. However, that might be easier said than done if you don't currently have dental insurance, which is why it pays to be prepared. Make sure that you're familiar with the basics of dental emergencies and your options for getting treatment even without an insurance plan.
What is a Dental Emergency?
This may seem like a simple question, but it's somewhat tricky to answer since there are many different dental issues that can count as emergencies. Oftentimes a truly urgent dental problem involves one or more of the following symptoms:
Persistent or severe oral pain.
Broken teeth and/or injured gums.
Swelling.
A pimple-like bump (known as an abscess) on your gum tissue.
A tooth that has come loose or has fallen out of your mouth.
Your dental team can help you determine whether or not emergency care is needed if you call them and inform them about your symptoms.
How Much Does Emergency Dental Care Cost?
There are quite a few treatments that might have to be performed in the event of a dental emergency. You'll only be given an estimate of the cost once your dentist has narrowed down what your smile needs. Remember that the final price can vary depending on the specifics of your situation. For instance, a root canal for a front tooth tends to cost less than one performed on a molar.
The more complex a dental emergency is, the more expensive it will be to treat. As such, a good way to save money on emergency care is to seek it out as you think you need it rather than waiting and allowing it to grow worse.
How Can You Make Emergency Dental Care More Affordable?
Oftentimes, dental practices have in-house savings plans that can help make their services more accessible for patients without dental insurance. Usually, these plans will provide a discount on many of the treatments that might be needed to stop your pain and repair your smile in the event of a dental emergency.
If you speak with the team at your dental practice, they can give you an overview of how much emergency care costs and your options for payment. It's essential to act quickly and explore every possible avenue for getting the care you need at an affordable price.
About the Practice
At Barker, Rohner and Hunt DMD of Raleigh, our knowledgeable dentists and our caring team members take the time to learn every patient's name and answer any questions they might have about our dental services. We'll try to see you on the same day whenever you have a dental emergency. To schedule a consultation at our office, visit our website or call (919) 847-7100.