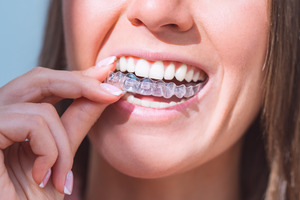 While both braces and Invisalign aligners can give you an absolutely beautiful smile, but both options offer very different approaches to the process. If you aren't familiar, Invisalign aligners offer many things that traditional braces do not, freeing you from many of the problems that they entail.
If you're someone who could do with a straighter smile but aren't interested in the prospect of traditional braces, here's are just some of the freedoms that Invisalign aligners may give you.
Freedom to Eat What You Want
As you're probably aware, wearing braces comes with quite a few dietary restrictions. You need to be careful not to eat anything that could get lodged in a bracket or snap a wire. For that reason, you'll have to abstain from some of your favorite foods.
Invisalign aligners, however, are removable. That means that—so long as you take off your aligners—you can eat just about anything you would like without affecting them.
Freedom to Look Great
One of the biggest barriers to people straightening out their teeth is the way that their braces will make them look. While braces can be a fashion statement for some people, not everyone loves the way that they make them look.
Invisalign aligners don't have that problem. They're made of a thin clear plastic that is nearly indetectable when you're wearing them. As a result, you'll be able to get the straight smile that you're hoping for without the need for bulky brackets.
Freedom to Grow
One of the rough things about braces is that it can be a little bit difficult to see the results as they're happening. The day that people get their braces off is usually a magical one because it allows them to finally understand what all their hard work has been for.
However, Invisalign aligners are transparent, which means that you can see the results as they're happening. People will be able to notice that your smile is straighter than it used to be, which means that your growth will be on display from the moment you get your aligners.
About Our Practice
When you visit us here at Barker, Rohner and Hunt DMD, you'll be able to see firsthand not only how dedicated we are to our practice, but a truly exceptional level of dentistry. Orthodontics can be quite a journey for our patients, so we make it a point to be there for them every step of the way. We have an office full of every amenity you could possibly need to better your smile, so you can rest assured that you'll better your smile.
If you have any questions about Invisalign treatment, we can be reached at our website or by phone at (919) 847-7100.